TeachingtheWord president Dr. Paul Elliott is available to speak at your church in regular services or special meetings. We also conduct conferences, seminars, and other events on a variety of topics designed to equip the Scripture-driven church. At present, Dr. Elliott is unable to travel outside the United States due to medical restrictions.
These events can be packaged in flexible ways, including weekend or weeknight conferences at your church or a public venue; special presentations for men's, women's, and youth groups; school assemblies; and homeschool conventions.
Here are some of our program themes: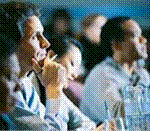 Finding the Right Bible:
Navigating the Maze of Versions and Translations

The Cult of Evolutionism:
A Biblical Reponse to a Religious Movement

Telling the Truth:
Answering the New Atheist Threat With Biblical Authority

Recovering the Scripture-Driven Church:
Reconnecting to the Church's Source of Power and Authority

What's the Purpose?
A Biblical Response to the Purpose-Driven Church Movement

The Church in a State of Emergent-cy:
A Biblical Response to the Emergent Church Phenomenon
Click here to receive more information on our programs, or to request a speaking engagement.